Effective Ways to Recover Recycle Bin Files in Windows
Is Recycle Bin recovery possible?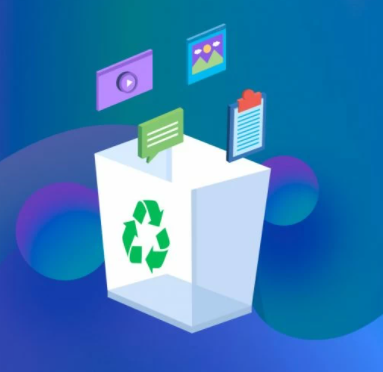 Yes, you can restore the emptied recycle bin. The recycle bin is essentially a temporary storage area for deleted files, deleted files are not immediately deleted from the PC, but first moved to the recycle bin, where they await automatic or manual deletion.
Many people might think that when your files are emptied from the recycle bin, you can never get them back. Not really, you can recover recycle bin files in Windows by some methods, including deleted files via Shift+Delete key combination.
When you empty the recycle bin, the storage space occupied by files will be marked as free, which means that users can use this space to store new data. However, a copy of the target file is still stored at the original path, but cannot be viewed by the user. Deleted/lost files can still be retrieved before new data overwrites the target file's path. That's why we can recover recycle bin files after emptying.
How to recover recycle bin files in Windows 10 without software
If you haven't emptied the recycle bin, you can open the recycle bin on the desktop, find the deleted target file, after right-click to restore, can find it in the original path.
If you've emptied the Recycle Bin, you can restore deleted recycle bin files through Windows Backup. Next, I will show you how to recover deleted files from recycle bin after empty in Windows 10.
Method 1. Recover Recycle Bin files in Windows via File History
When you want to restore Recycle Bin files, you can use the File History feature. It's a Windows built-in tool, no download required. You can use it to recover deleted files, but only if you enabled the feature before the files were deleted.
Steps 1. Open Control Panel and click System and Security.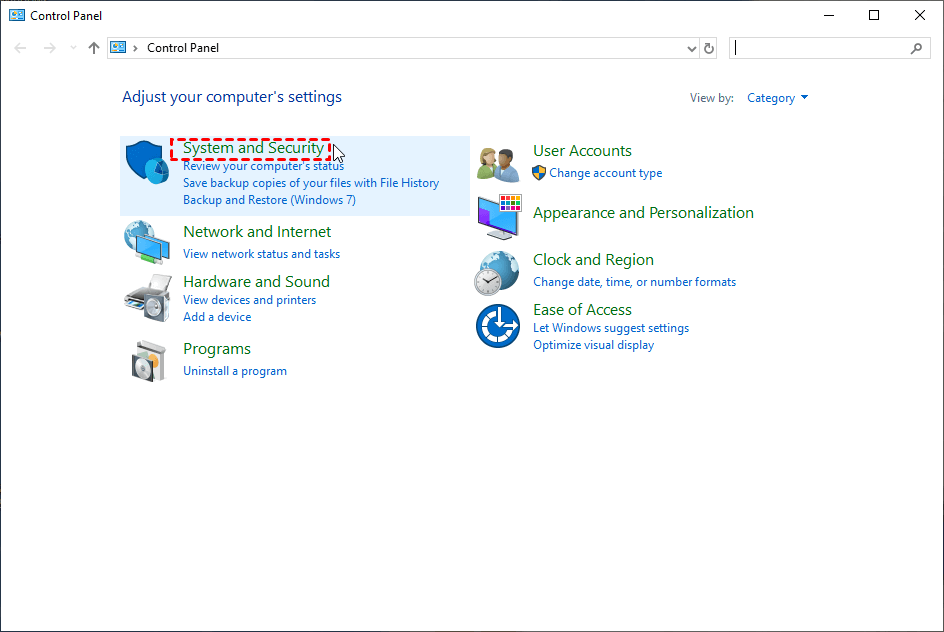 Step 2. Find "File History" in the list and open it.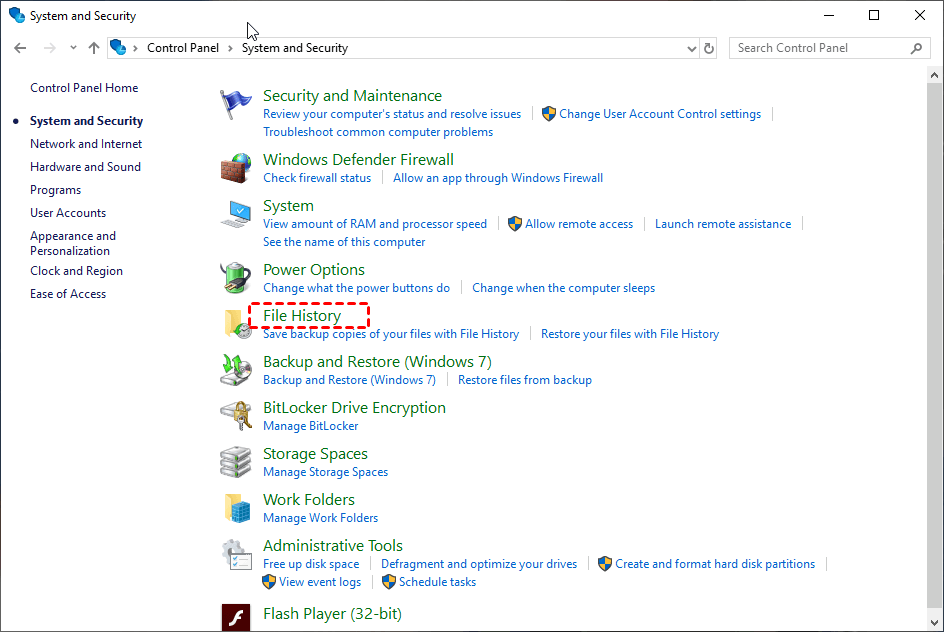 Step 3. Next, click "Recover Personal Files" in the upper left corner.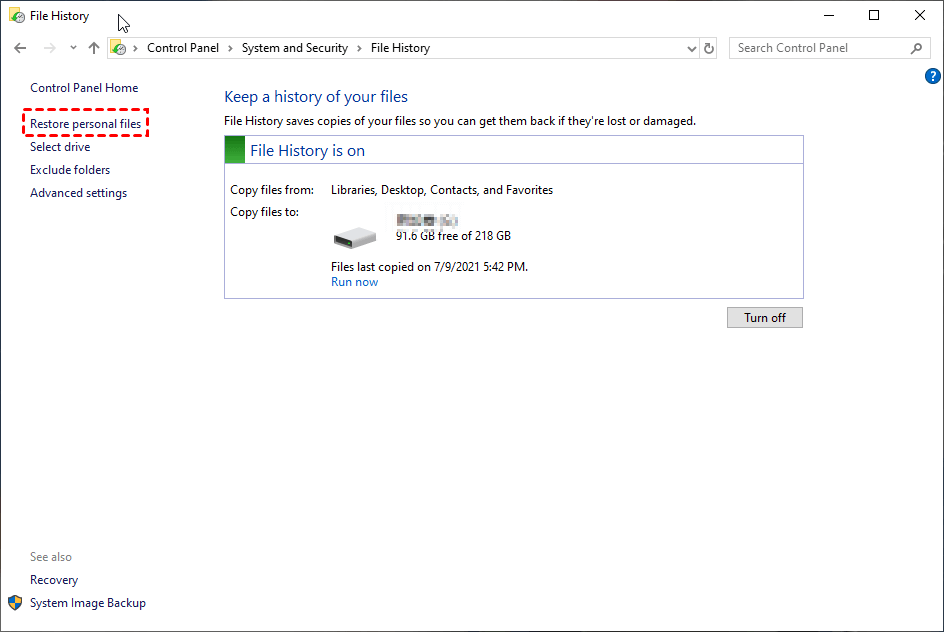 Step 4. Here you can see the deleted files, find the target file and click the "Recover" button below.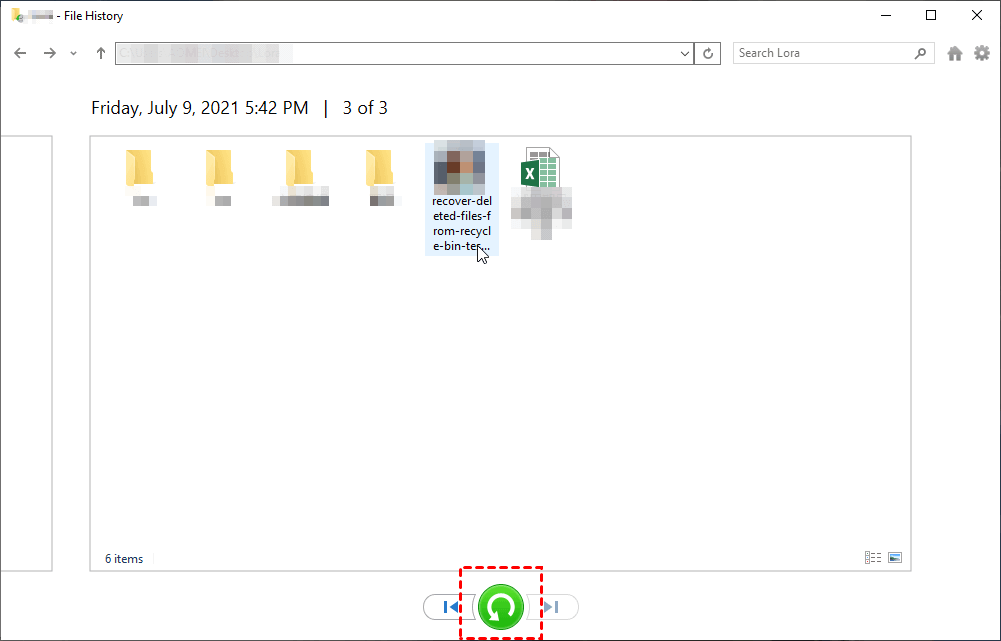 Method 2. Recover Recycle Bin files in Windows by Backup
Similar to File History, when Backup and Restore is enabled, files and folders and Windows systems can be backed up regularly.
Step 1. Same as method 1, navigate to System and Security. Then click Backup and Restore.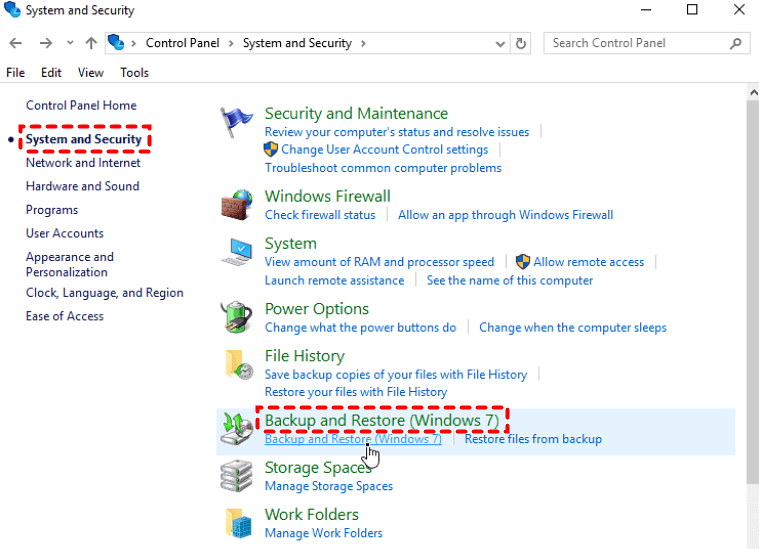 Step 2. Click "Recover My Files" and follow the prompts to recover the files you need.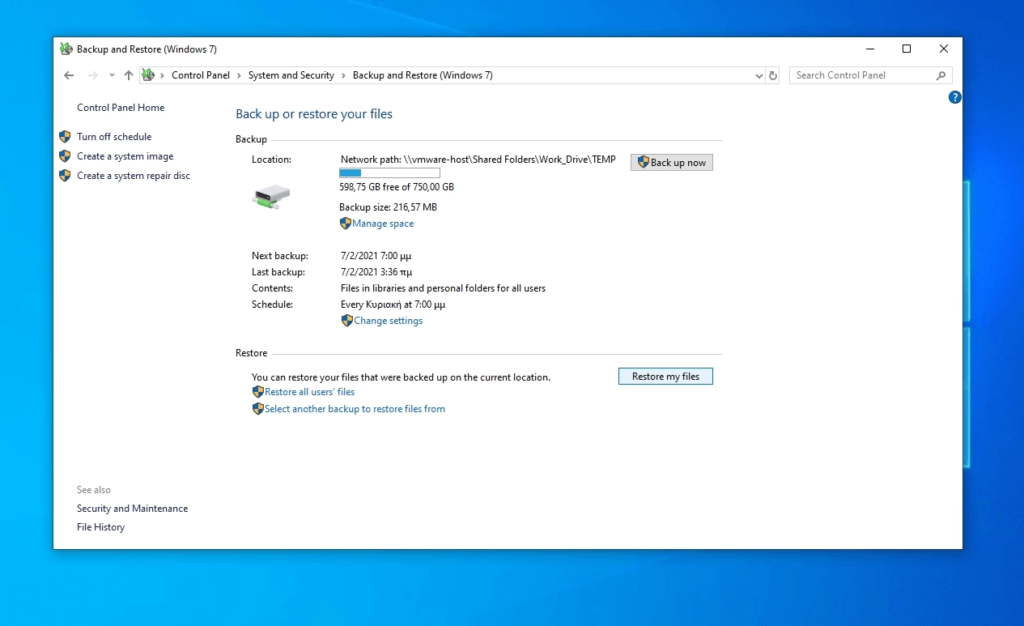 Recover recycle bin files in Windows with Windows File Recovery
Windows File Recovery (supporting Windows 10 2004 and above users) is a command-line data recovery program officially released by Microsoft. As we all know, the command line program is not suitable for all users because it is more difficult to use. But here are some steps for your reference.
Step 1. First, you need to download and install Windows File Recovery from the Microsoft Store.
Step 2. Open Windows File Recovery and type winfr source-drive:destination-drive: [/mode] [/switches].
Notes: Please use the following table to determine the [/mode] and [/switches] parameters.
According to the File System, choose the mode.
| | | |
| --- | --- | --- |
| File System | Scenarios | Mode |
| NTFS | Deleted recently | Regular |
| NTFS | Deleted for a while | Extensive |
| NTFS | Formatted disk | Extensive |
| NTFS | Corrupted disk | Extensive |
| FAT and exFAT | Any | Extensive |
According to the mode, choose the suitable Switches.
| | | |
| --- | --- | --- |
| Switches | Meaning | Supported Mode |
| /n | To filter the scan range: scans for a specific file with its file name/path/type, etc. | All |
| /y: | Recovers system files. | NTFS/Segment​​​​​ |
| /u | Recovers undeleted files, for example, from the Recycle Bin. | NTFS/Segment |
For example: winfr D:E:/Regular/n.
To use this program, you must type the corresponding commands, which is more complicated for non-technical users.
Luckily, there is a GUI version of Windows File Recovery that will make it easier for you to recover recycle bin files in Windows. WinfrGUI is completely free software that fully invokes Windows File Recovery functions, with a friendly interface and is suitable for everyone. Users can recover deleted/lost files with just a few clicks. Below are the detailed steps.
Please download the freeware to see how to recover recycle bin files in Windows 10.
Step 1. Select the partition to scan and the location to save.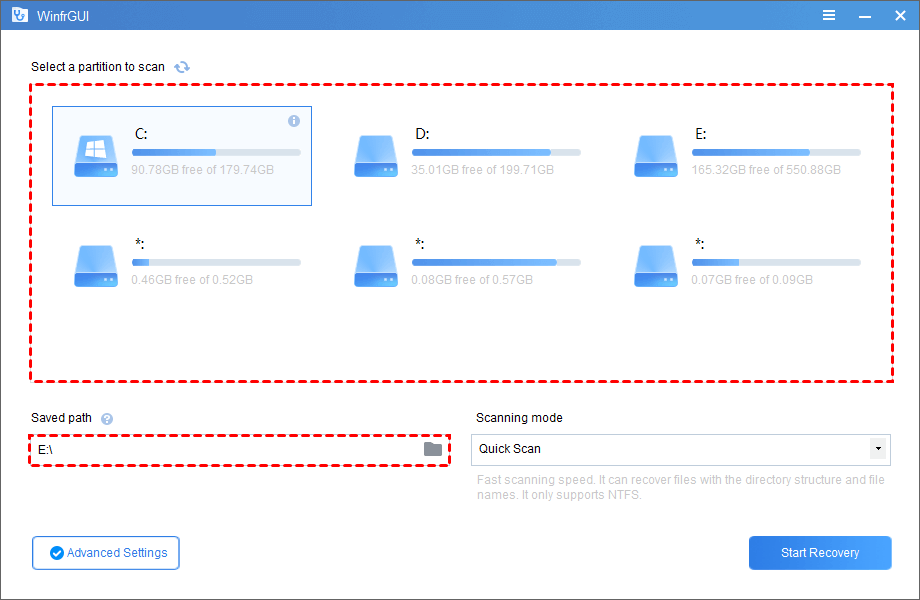 Step 2. Select Scanning mode. What's more, Advanced Settings are available if desired.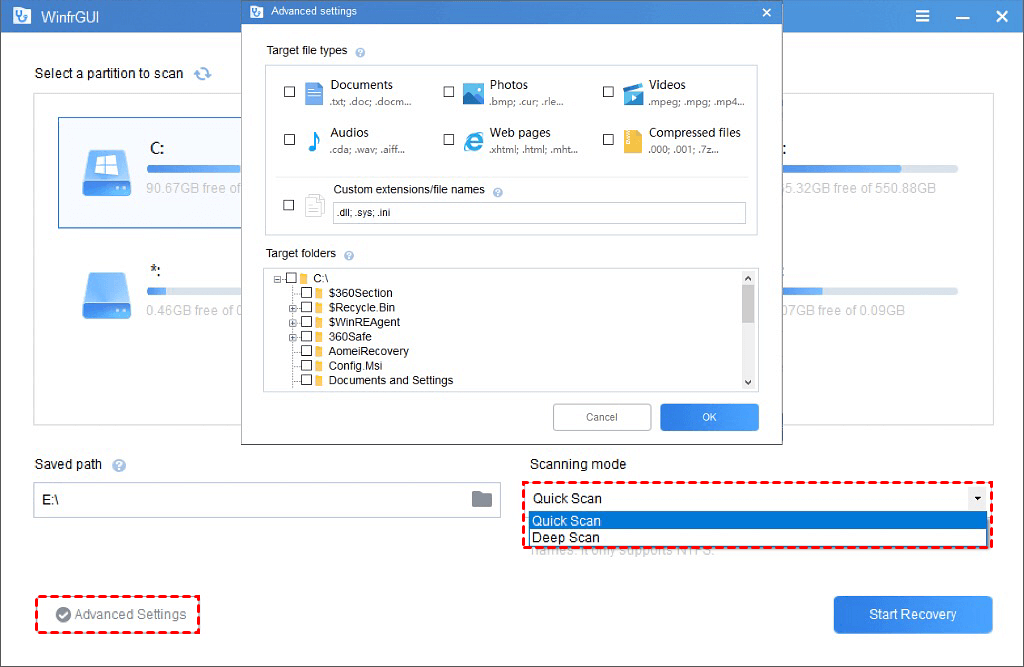 Step 3. Click "Start Recovery".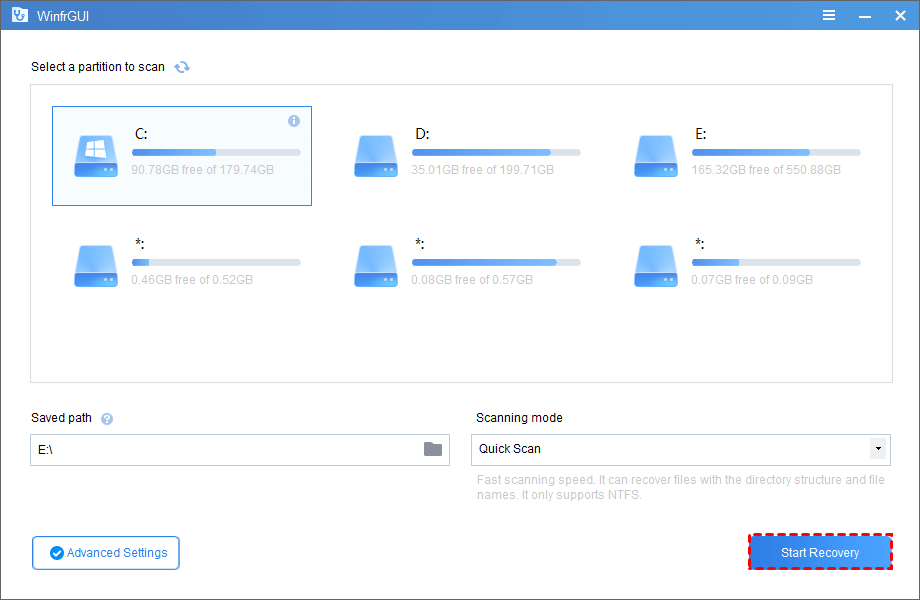 Sum up
From what has been discussed above, I have introduced some useful ways to recover recycle bin files in Windows. In order to save more time and energy, WinfrGUI should be a good choice.