[Fixed]: How to Recover Deleted PDF Files in Windows
Is it possible to recover deleted PDF files in Windows?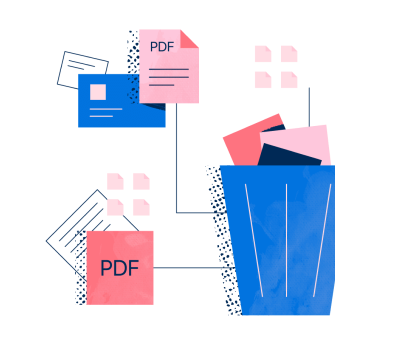 Yes, deleted PDF files can be recovered even if you didn't backup them in advance. But the premise is that the following conditions are met:
There is no physical damage to the storage device where the PDF files are stored.
The path of the deleted file has not been overwritten with new data.
Deleted PDF files are not stored on a TRIM-enabled SSD.
If you want to know how to recover deleted PDF files in Windows, please read the following with patience.
What are PDF files?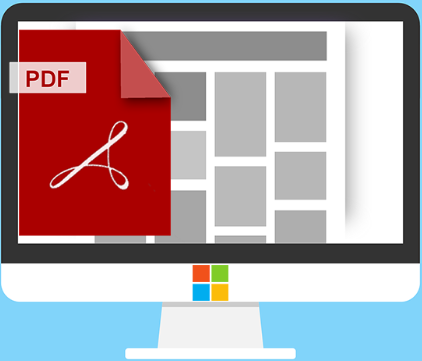 PDF files are documents saved in the Portable Document Format developed by Adobe to render documents consistently across a variety of software, hardware, and operating systems. Due to its ability to preserve formatting, the PDF file format is the most popular way to store and transfer read-only documents.
Since PDF files are widely used, the problem of PDF files being deleted by mistake is very common. Businesses and organizations rely on the PDF file format when transferring documents, yet they rarely know how to recover accidentally deleted or lost PDF files. If you are currently experiencing such issues, this guide provides several detailed methods to help you regain access to them.
How to recover deleted PDF files in Windows 10 and 11
This section provides 3 effective methods to restore deleted PDF files, including restoring from Recycle Bin, restoring via Windows File History, and restoring previous version. You can choose one according to your needs, please refer to the following steps.
Solution 1. Recover deleted PDF files from Recycle Bin
Accidentally deleted PDF files often end up in the Recycle Bin if you don't delete the PDF file via Shift + Delete or PowerShell. So, before taking any further action, please check the recycle bin.
Open the recycle bin and search for deleted PDF files. If you find the PDF file, right-click it and select Recover from the context menu. Deleted PDF files will be restored to their original location immediately. If the deleted PDF file is not in the recycle bin, go to the next method.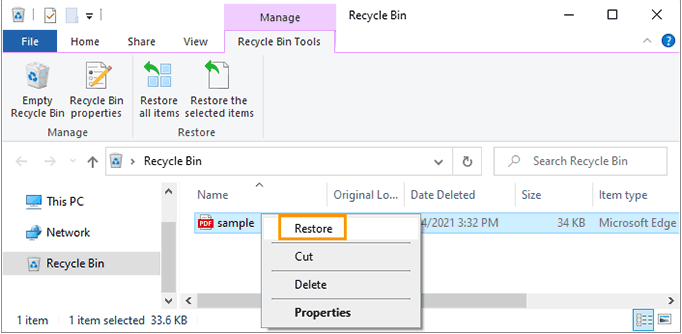 Solution 2. Recover deleted PDF files via File History
The first method is the easiest, if it doesn't work, try the second method. The second method requires File History to be enabled before the PDF files are deleted, as this method retrieves lost files from a backup. If you don't have this feature turned on, it's not for you.
Step 1. Click "File History" in this window.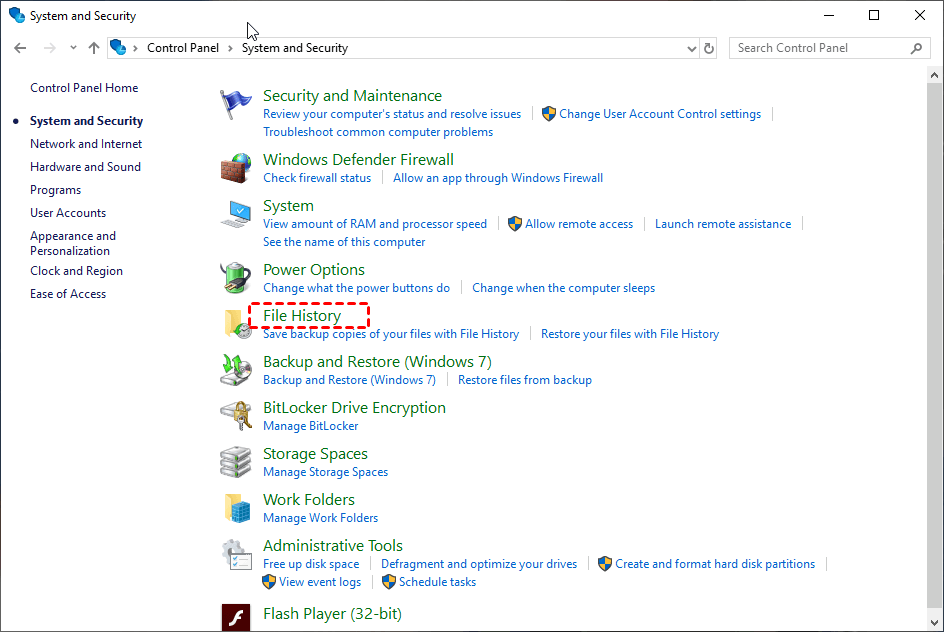 Step 2. Click "Recover personal files".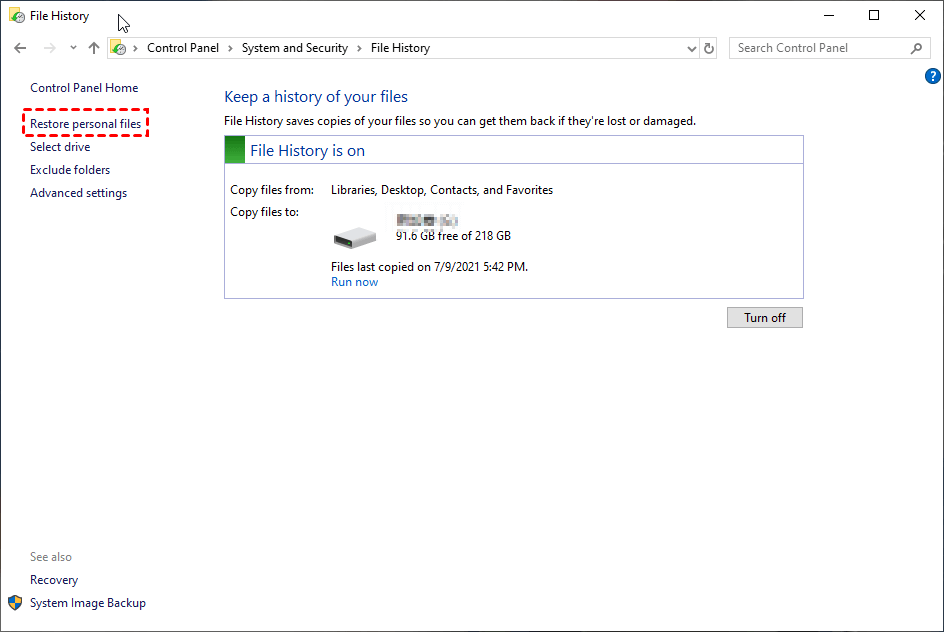 Step 3. View the PDF file you need by browsing all the contents, then click the "Recover" button to restore the PDF to its original location.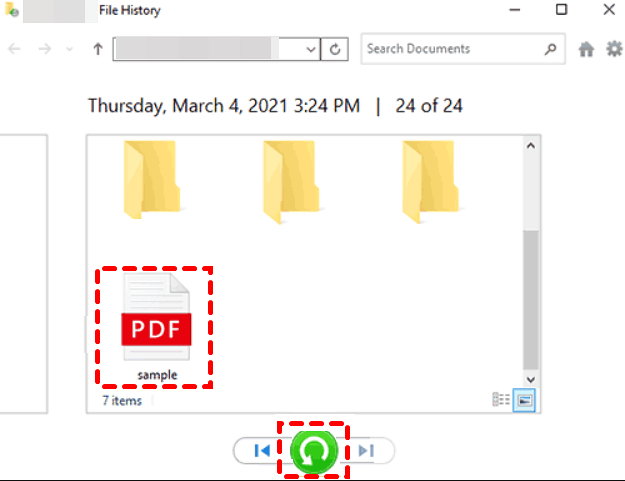 Solution 3. Restore from Previous Version
The premise of using this method is that you have created a Windows system restore point. Because it is by restoring to the previous version to get back the lost PDF files.
Step 1. Find the location where the PDF file is saved.
Step 2. Right-click and select "Restore to previous version".
Step 3. Select the corresponding file according to the time, and then click "Restore".
Recover deleted PDF files Windows 10 by Windows File Recovery
If you have not found the deleted PDF files in the Recycle Bin and have not taken any backup measures. Then you have to try the next method.
Windows File Recovery is a free file recovery program released by Microsoft that can be used by Windows 10 2004 and above. It supports recovering files from healthy/formatted/corrupted HDD/SSD/USB/memory cards including JPEG, PDF, PNG, MOV, ZIP, etc.
However, it is a command-line program and many users find it difficult to recover files using Windows File Recovery due to the lack of a graphical interface. Don't worry, I'm here to show you how Windows File Recovery works.
Before start, remember this basic command format: winfr source-drive:destination-drive [/mode] [/switches]
Step 1. Get Windows File Recovery from Microsoft Store and run as administrator.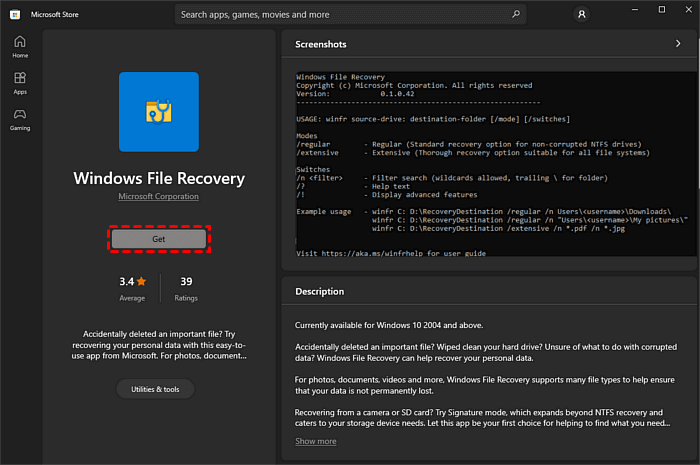 Step 2. Select the corresponding mode and switch according to the table below.
| | | |
| --- | --- | --- |
| File system | Circumstances | mode |
| NTFS | Deleted recently | Regular |
| NTFS | Deleted a while ago | Extensive |
| NTFS | After formatting a disk | Extensive |
| NTFS | A corrupted disk | Extensive |
| FAT and exFAT | Any | Extensive |
Switches
Meaning
Supported mode(s)
/n
Filter the scan range: scans for a specific file with its file name/path/type, etc.
All
/y:
Recover specific extension groups.
Signature
/k
Recovers system files.
NTFS
Segment
/u
Recovers undeleted files, for example, from the Recycle Bin.
NTFS
Segment
For example: The corresponding command syntax may be winfr C:D:/regular /n *.pdf.
Step 3. After typing in this command, you can enter "y" to continue and wait for the recovery process to complete. The deleted PDF files will be restored on the destination drive.
Windows File Recovery is indeed a useful tool, but the complicated commands are not friendly to the ordinary user.
Fortunately, you can also use WinfrGUI. This is a third-party software, but it does exactly the same thing as Windows File Recovery. You can think of it as a light version of Windows File Recovery. Because it provides a graphical interface, users can complete file recovery with just a few clicks. If you are looking for an alternative way, then WinfrGUI is perfect.
Next, I will show you how to recover deleted PDF files in Windows step by step with WinfrGUI.
Step 1. Select the partition where the deleted file is located and select the path to restoring the file.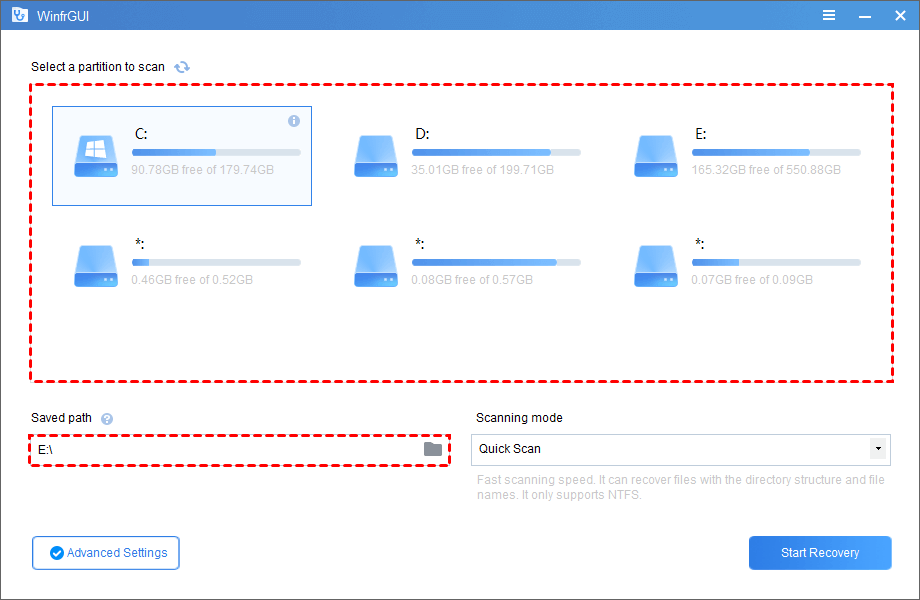 Step 2. Choose one Scanning mode.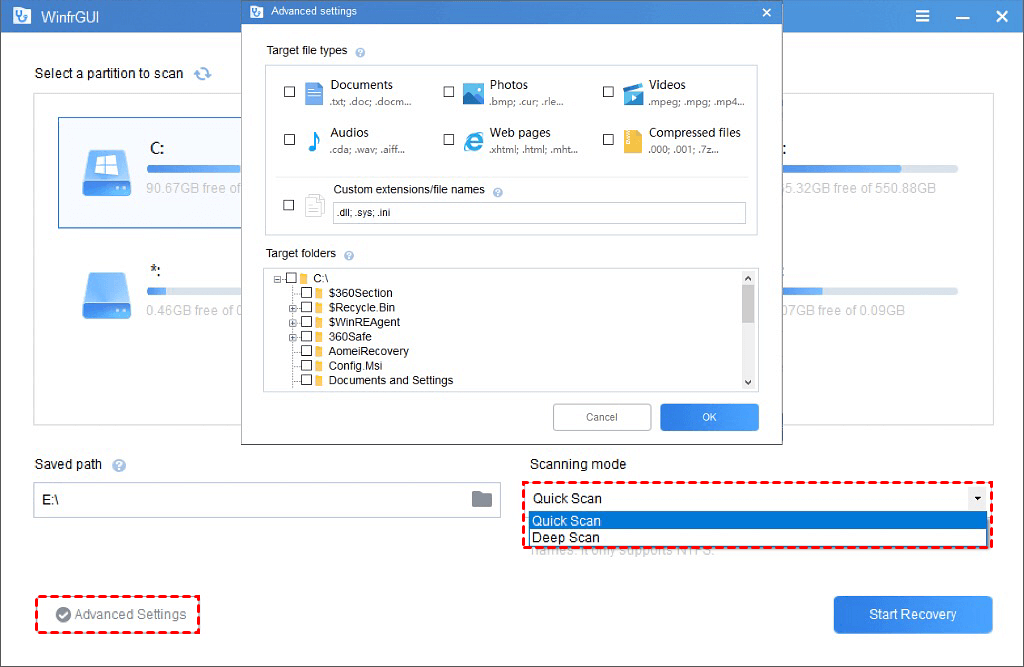 Step 3. Click "Start Recovery" and wait patiently, the lost files will be recover to the target drive.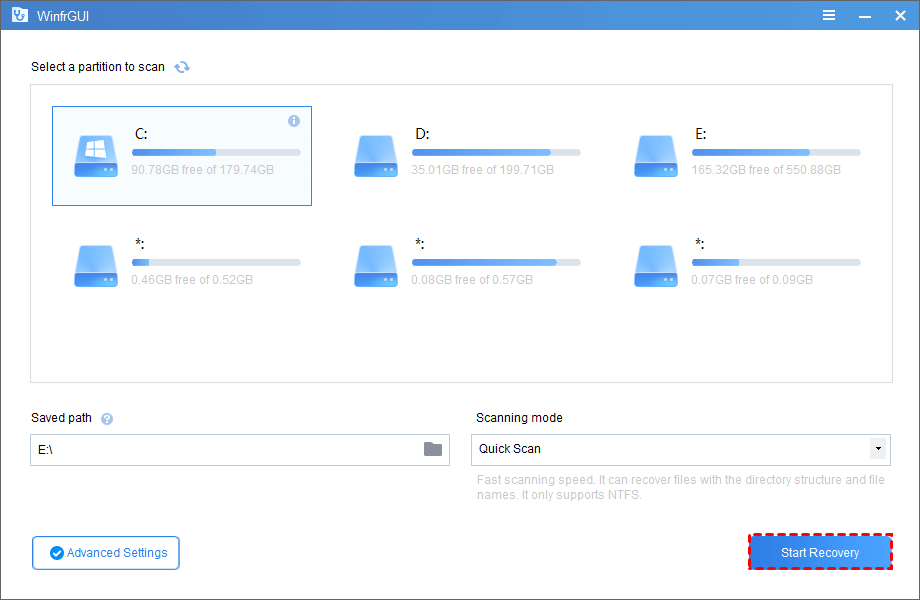 Sum up
From what has been discussed above, this article introduces 4 methods to show you how to recover deleted PDF files in Windows. The first three have certain limitations, but Windows File Recovery allows you to use it in any situation. If you find it difficult to use it, please switch to WinfrGUI, which is the easiest and most effective.